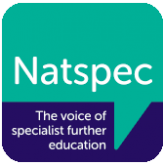 Hedleys College is a member of Natspec which is the membership association for organisations which offer specialist further education and training for students with learning difficulties and/or disabilities.
Natspec vision
Our vision is that all young people with learning difficulties or disabilities can access high quality education and training, which meets their individual needs and supports their aspirations for skills, work and life.
What they do:
Natspec promotes specialism and personalisation within a diverse range of further education and training provision for young people with learning difficulties and/or disabilities that broadens their choice, supports their aspirations, represents their best interests and provides a social return on investment.
Our core activities: we
Support and inform our members to raise the quality of provision: via guidance, briefings, events, conferences and networks.  We also help our members provide advice and guidance to young people, their families and supporters.
Advocate for our members and influence policy: via representations to government, funding agencies and other stakeholders, including through the use of student voice. We promote the work of our members through our directory, website, e-newsletters, social media and articles to highlight the positive difference members can make to the lives of young people with SEND.
Support the wider FE sector: via training and development through TechAbility and the Natspec Transform service, together with projects and partnerships to support professionals throughout the sector. We provide opportunities for students to engage in inter-college activities such as Inclusive Skills, the Natspec Games and the Student Parliament. We also contribute to the work of other organisations who seek to improve the lives of people with disabilities.