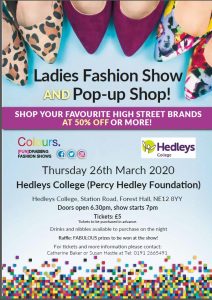 We are holding a ladies fashion show and pop up shop on March 26th at Hedleys College  The clothes on offer are from the high street and at 50% off the marked price and come in a wide range of sizes. There will be drinks and nibbles on the night as well as a fantastic raffle including a voucher for clothes on the evening.
Proceeds from ticket sales and food/drink/raffle go towards the College Café project so this is a brilliant opportunity to grab a bargain, get your spring wardrobe sorted but also help the College funds.
If you would like a ticket for yourself, friends and family its only £5.00 pp. If anyone is willing to sell tickets also by taking a set amount I would really appreciate it.
Please contact Catherine c.baker@percyhedley.org.uk or Susan s.hastie@percyhedley.org.uk for a ticket as these can only be purchased in advance.