Initial Assessment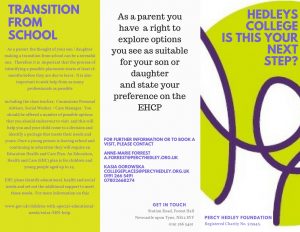 Baseline Assessment
When a student starts at Hedleys college, students are assessed to determine at which level they are working in each curriculum area. This will then support the construction of an individual learning programme, the allocation of individual learning targets, and the placement of the student in an appropriate teaching group.
Baseline assessment identifies the student's abilities, understanding, knowledge and skills across a range of contexts including communication, literacy, numeracy, ICT, independence and employability.
RARPA and the Learner Journey
In a personalised learning model, where all students have individual learning plans, it is important to recognise individual achievements whenever and wherever they occur. For all students, there are opportunities to have learning recognised by the college. Students are able to work towards external awards and accreditation, where their achievements will be recognised by a national awarding body such as Edexcel, NCFE and ASDAN.
The recognition and recording of progress and achievement (RARPA) at Hedleys is in line with the RARPA  of "Recognising and Recording progress and achievement in non-accredited learning". Students skills of social interaction, getting along with others, confidence and self advocacy may not be accredited by an exam board but Hedleys College recognise that they are equally important.
Achievement
Achievement is monitored and celebrated in a number of ways:
Long Term Goals – What students are aiming for when they leave college.
Medium Term Targets – What the student will achieve this year to move them towards their goals.
Short Term Targets – Set approximately every 6 weeks and linked to medium term targets.
Student in the Spotlight – This is awarded by the student council termly and recognises the achievement of one student who has made exceptional progress towards their individual goals.
Termly Achievement Ceremony – at the end of each term students are awarded certificates for individual progress in a range of skill areas such as Communication, Independence, Work Experience and Therapy. This can be in any area of the student's life at college.
Graduation Event – at this special event, all leavers are presented with individual certificates, prizes and highlights of their achievements at college. Employers sponsor several key awards and present them to the students.
Accreditation – All students have the opportunity to work towards relevant externally accredited qualifications